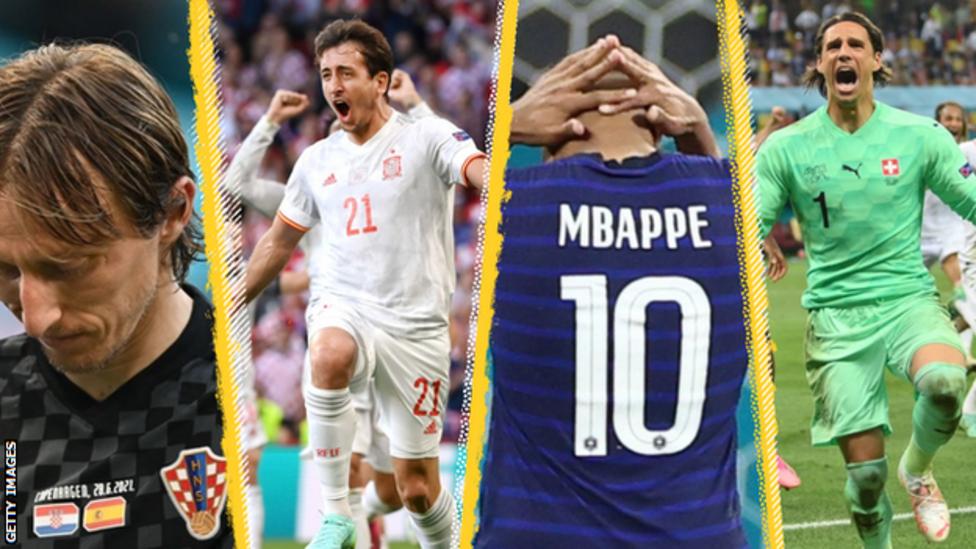 World Cup finalists Croatia and France both went out on an unforgettable day in Euro 2020
Was it the greatest day of the Euros, ever?
Two games went to extra time after late goals overturned 3-1 deficits in extraordinary fashion and there were 14 goals in total – the second most in the competition's history.
Last Wednesday there were 18 goals across four games but today's 240 minutes of drama gave that record a good run for its money.
In Copenhagen, there was a bizarre own goal, late heroics from substitutes and "broken hearts" at full-time.
In Bucharest, there was a wonder goal, a penalty shootout and a giant-killing.
Chris Sutton summed it up on BBC Radio 5 Live: "Magic Monday. What an incredible evening."
Simply put, it was football in its purest form.
View more on twitter
An epic game with 'unspeakable sadness'
For Spain manager Luis Enrique, it was an "epic game" with a "beautiful ending" but Croatia midfielder Nikola Vlasic's heart was "as big as a house and then it broke after we conceded twice".
Those emotions sum up what a frantic evening it was as Spain progressed to the quarter-finals following a 5-3 win over Croatia in extra time.
Enrique's side were rocked when Croatia substitutes Mislav Orsic and Mario Pasalic scored twice in the final five minutes to come back from 3-1 down, but Spain rallied as the added 30 minutes produced yet more drama.
"I've lived through really intense matches as a player and manager but this one genuinely had a bit of everything," said Enrique afterwards.
"I'm ready for games like this if we have another – but I'm not sure if my family or the fans feel the same!
"The end of the match was so beautiful – I'm glad that the game gave us a second chance to win it. It was an epic game. I've experienced many intense games in my career but this was one of the best."
The scenes of jubilant celebrations from the Spaniards were in contrast to the devastated figures of the Croatians – "unspeakable sadness", it was described as by Vlasic.
"When we netted twice in quick succession to draw level my heart was as big as a house and then it broke after we conceded twice," he told HRT.
Former Scotland midfielder Graeme Souness told ITV: "We've been waiting for the competition to come alive and it did tonight. That was the best game in the competition so far."
Redemption for Simon after freak own goal

'Boy we had to suffer' – reaction to Spain's win
'The greatest game on the planet'
But if anything was to contest for the title of "best game so far" it was the one that followed in Bucharest as Switzerland shocked world champions France.
Didier Deschamps' side trailed at half-time but two goals from Karim Benzema and a stunning long-range strike from Paul Pogba put them in the driving seat.
Switzerland's Haris Seferovic and Mario Gavranovic then forced extra time and – if there was not enough drama already – France superstar Kylian Mbappe's deciding penalty kick was saved in the shootout.
Former Republic of Ireland midfielder Roy Keane told ITV: "As neutrals we got sucked right into it, honestly. This is why it's the greatest game on the planet."
Switzerland captain Granit Xhaka said they "made history", while goalkeeper Yann Sommer, the hero of the shootout, described it as "crazy".
"What a game, what a night of football! The end is crazy, it is beautiful, but how we came back during the game from two goals down… I am really proud of this team," he added.
"We always believed, we always said if we are down we will go to the end and not give up. It was our chance to go through. It is incredible how we played.
"Anything is possible but that is always in football. We believed it, we are a small country but we have a lot of quality and have experience in our squad. We showed it."
France goalkeeper Hugo Lloris added: "We went through every emotion possible and honestly that was football the way we like it. But the two goals we conceded in the last quarter of an hour really hurt us."
View more on twitter

Starstruck:

The one-night stand that has blockbuster consequences

Advice from former Love Islanders:

What do they wish they had known before entering the villa?

commentsView Comments987
Comments
Join the conversation
To use comments you will need to have JavaScript enabled.
987 commentsShowLatestOldestHighest RatedMost Replied
L


Comment posted by LockStockBringo, at 00:15 29 Jun

00:15 29 JunThis tournament has helped me fall back in love with football again and a huge, huge part of that is the refereeing. The way they have let games flow and waved play on for what would normally be silly free kicks, has been absolutely superb.7038

More replies (41)down

J


Comment posted by John Coltrane, at 00:04 29 Jun

00:04 29 JunThe best night of entertaining football I've seen in years. Well done particularly to Switzerland.3463

More replies (24)down

A


Comment posted by AFCDale, at 00:07 29 Jun

00:07 29 JunHopefully Southgate isn't planning to balance it with Turgid Tuesday.30110

More replies (46)down

S


Comment posted by Steely_Dan54, at 00:12 29 Jun

00:12 29 JunBest I can ever remember. Commiserations to France and Croatia, they played their part in two magnificent games. Goals, great goals, penalty saves, last-minute comebacks and giant-killings. It doesn't get any better than that, Kudos to all involved.2650

More replies (17)down

M


Comment posted by Milky Bar Senior Citizen, at 00:13 29 Jun

00:13 29 JunWonder if Kane and Mbappe will see their transfer fees and wage demands come a little more down to earth after this tournament.2264

More replies (20)down

B


Comment posted by BarryChuckle, at 00:31 29 Jun

00:31 29 JunJust when you thought 4 hours of football couldn't get any better, it ends with the French getting dumped out.20720

More replies (13)down

A


Comment posted by Ade Whitaker, at 00:06 29 Jun

00:06 29 JunBonkers day of football. Just brilliant!1831

More replies (4)down

A


Comment posted by Adam SE15NZ, at 00:57 29 Jun

00:57 29 JunIt's not that I hate Pogba…His goal was superb. But his dancing, his arrogance, his gestures, cringe…Glad France is out. Well played Swiss.18027

More replies (27)down

F


Comment posted by farmerthorne, at 00:08 29 Jun

00:08 29 JunEngland will bring the tournament back down to earth tomorrow zzzzzz14120

More replies (17)down

A


Comment posted by abby, at 00:23 29 Jun

00:23 29 JunOnly let down on this tournament so far is the sports pundits in the studio and commentary….. Shockingly amateurish1109

More replies (18)down

B


Comment posted by Bazza84, at 00:20 29 Jun

00:20 29 Jun14 goals in the space of two games? The World Champions sent packing? Yeah I'd say its likely to hold up as one of the more memorable days in the annals of international football tournaments ever.

Its mad that Spain scored 10 goals in two games when they struggled so badly in the first two games. Just shows how unpredictable this tournament is.1011

More replies (5)down

T


Comment posted by toffeeblue, at 00:04 29 Jun

00:04 29 Jun100% the best day of euro football so far. That was pure entertainment. World champs and euro champs out in the fist knockout stage, has that ever happened before…. each game had a 2 goal deficate with what 10 mins left… superb football.
I will not say it but i have a feeling.928

More replies (15)down

P


Comment posted by Peter North, at 00:06 29 Jun

00:06 29 JunCroatia and Swiss played with guts and fight.
Wish England played like this instead of being so overly conservative. The best defense is a good offence. We need to unleash everything tomorrow and play with unity, heart and desire.9211

More replies (19)down

F


Comment posted by frostyboy4, at 00:26 29 Jun

00:26 29 JunGot a Czech Republic v Switzerland final written all over it.806

More replies (8)down

R


Comment posted by Roci, at 00:21 29 Jun

00:21 29 JunBoth of today's matches epitomized the best of football! What's more, yesterday, the better team won by playing simple, direct football (Czech Republic) against the Dutch who tried to flick and walk the ball into the net.552

More replies (4)down

A


Comment posted by AdBadH, at 00:09 29 Jun

00:09 29 JunWhat a good day for football.542

More replies (1)down

M


Comment posted by Meadowender, at 00:15 29 Jun

00:15 29 JunAll three teams from the group of death go out in the first knock out round then6213

More replies (3)down

Z


Comment posted by Zac, at 01:04 29 Jun

01:04 29 JunThe four teams proved that if you pass the ball forward instead of sideways or back you can score goals. England take note.492

More replies (6)down

F


Comment posted by Foxes, at 00:07 29 Jun

00:07 29 JunFor a neutral, you don't get much better than today… unreal entertainment… well done to Murray too6321

More replies (5)down

H


Comment posted by Hobiecat, at 00:06 29 Jun

00:06 29 JunGreat evening of entertainment, and probably the right result in each game. The quarters are looking tasty too!341

More replies (1)down
More commentsBack to topunknown

Source